Choice of lotto wheeling software

Posted by Scrooge on November 09, 2000.
Hi Ion,
I'm using your LotWon99 lottery software and are just wondering which type of lotto combination generator do you prefer? The free combs generator or wheel lotto wheeling software?
Regards,
Scrooge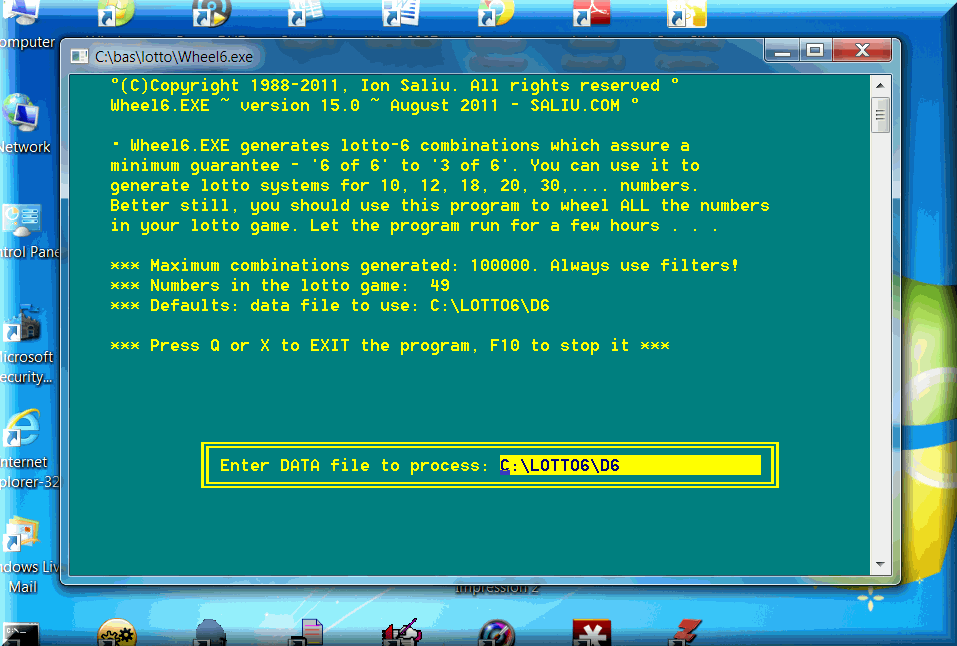 Check out:

Resources in Lotto, Lottery Software, Wheeling
Lists the main pages on the subject of lottery, lotto, software, wheels and systems.
Download lottery, lotto wheel software from the download site:

Wheel-632, Wheel-532
, the best on-the-fly wheeling software; applies real lottery filtering.
~ Superseded by the most powerful integrated packages
Pick532, Pick532
and, especially, the Bright software packages.

Combinations
, the universal combinations generator for any lotto, Keno, Powerball, Mega Millions, Euromillions;

LexicoWheels
, generator of lotto wheels based on lexicographical indexing; applies to any lotto, Keno, Powerball, Mega Millions, Euromillions or two-in-one lotto games.

WheelCheck5, WheelCheck6
, software to verify lotto wheels for missing combinations and generate lotto-5 and lotto6 systems.

LottoWheeler
, free wheeling software: fill out lotto wheels with player lotto numbers. Supersedes the old-time favorite FillWheel (still offered). The two pieces of software replace the theoretical lotto numbers in the SYS/WHEEL files by your picks (the lotto numbers you want to play).

Shuffle, SuperFormula
to shuffle (randomize, randomly arrange) your lotto picks. Repeat the randomizing procedure several times. The randomized wheels can be used directly, without shuffling your lottery picks first.