Again, that hot Google thread might get deleted. I saved a few comments and will publish them on this page. I highly recommend you too participate in the legal anti-Google campaign. Not only that you do not risk anything — you contribute to the betterment of humanity. Keep in mind, at least one webmaster felt so bad about this Google update that he, unfortunately, committed suicide. His bread-earning business was totally destroyed by the Google Penguin update!

Comment by Viper217 -
Google poisons its own search well?

The commercial tensions of turning a buck have perhaps skewed Google's intentions of providing a better search experience for users, to one of placing commercial sites who are paying them to place their sites higher in the rankings.

The US Government and the EU look very unfavourably at a monopoly company that 'abuses' its pre-eminent position e.g. Microsoft has been brought to heel by both legislatures.

As business owners are penalized and users find irrelevant search terms they will move away from Google (way of the DODO springs to mind for a search engine that can't find relevant stuff)

Perhaps Google is not positioning your site in its search engines because you didn't pay enough for top spot? - perhaps this could be seen by lawmakers as a form of racketeering/extortion?

Only Google knows, and only Google cares - the new CEO came from Paypal - perhaps monetization at the big G now takes a higher position than "a good user experience"

Making Monet online - google vilifies a lot of Internet Marketers for their approach - yet Google operates in an arbitrary fashion with no oversight.

Google can't have it both ways, they can't be the last bastion of open user search, while at the same time penalizing genuine business.

Interesting times - I just feel for people who are trying to make a living in the World recession, while eggheads at the Big G tamper with people's lives.

Comment by SelfMadeWealth -
: "Three of my sites with no duplicate content, no spun text, optimized with proper meta-tags and no keyword stuffing which previously ranked on the first page for the past two years have suddenly disappeared completely. I don't see the point of mentioning individual websites here but blank blogs are sometimes still ranking and totally irrelevant websites to the key phrases searched for so the latest update hasn't done anything to improve that situation."

comment by kadra dams –
"This to me proves - once again - that Google is totally unreliable to create a stable business. Entrepreneurs take note. We need more transparency and trustworthiness from a search engine and Google is not it.

We need a new search engine that webmasters can actually trust. Google just gives us vague guidelines that can mean a thousand things and wonders why people hate them!"

Comment by Lucy -
"Search for 'python hosting', www.python-hosting.com is #3, a single page website, with the only word - "OK". It's a joke..."

Comment by Stephan -
"Google, do you want to be god? Do we have to live in constant fear of you and your wrath?

I've not been hit this time, but I live in constant fear. As a blogger I focus on content - I love writing.

The reason why I'm into SEO is only because you make me! Because I've been hit by your "Spam penalties" more than once.

If you want us to focus on good quality content - LET US! Be a reliable partner and not an angry god, who brings in some floods every one or two months."

Comment by Andreas -
"Anyone remember on Altavista? Google was able to crush them in less than a year, because AltaVista results were too easy to manipulate / to spam. Google has become popular, because they were able to deliver highly relevant results to the end users.

In the last years there is grown a big backlink business, that doesnot create any real value. When people are doing SEO they usually do not do, what Google recommends like creating high quality content..."

Comment by Rob -
Here google I will make it easy for you to eliminate webspam. Just lock the following domains into the top 10 results and call it a day... anyone else can just sign up for AdWords...

1. YouTube
2. Wikipedia.org
3. Amazon.com
4. about.com
5. ehow.com
6. huffingtonpost
7. nytimes
8. nih.gov
9. yelp
10. reference.com

This is where it's heading anyway…"

Comment by travelagent -
I know this has all been posted before, But I feel some may not have seen it, I have read some things on Forums and even on Facebook of people that have filed a complaint! I did, most of the info, does not need to be filled in, but you will need to write your complaint out. Take the time, it may help!

According to NY Times, Google will be reviewed by the FTC:

http://www.nytimes.com/2012/04/27/technology/google-antitrust-inquiry-advances.html?_r=3&pagewanted=1&hp

Federal regulators escalated their antitrust investigation of Google on Thursday by hiring a prominent litigator, sending a strong signal that they are prepared to take the Internet giant to court.

"The Federal Trade Commission is examining Google's immensely powerful and lucrative search technology, which directs users to hundreds of millions of online and offline destinations every day. The case has the potential to be the biggest showdown between regulators and Silicon Valley since the government took on Microsoft 14 years ago."

For those who suffered dearly on this update - business wrecked, site missing from listing, loss in revenue, you should know that you can report this to the FTC.

https://www.ftccomplaintassistant.gov/

The complaints will carry weight if it's done in bulk."

Comment by Ryan1241 -
"Sign the 'Google Please kill your Penguin update' PETITION

http://www.change.org/petitions/google-please-kill-your-penguin-update-l"

Jason Lorense said...
"Dejected, destroyed and feels like committing suicide, because I lost my job and now have nothing to feed my children. Thanks for all that google, but remember Karma strikes back. What goes around comes around and I'm sure you'll do great in life with millions of people's curse for destroying their lives. Good job, may god help you (criminals)!"

Unknown said...
"Most webmasters did not try to game the system. The fault lies with Google because they've relied so heavily on backlinks over the years. Many white-hatters have been forced to use grey or even black-hat techniques in order to compete with competitors that were using black hat techniques to rank well."

Unknown said...
"I just searched for "Cialis" which is pharmaceutical drug (to combat impotence), and #9 is a web design company, while #10 is a site for the Starcraft video game. Neither of these sites has anything to do with Cialis. This is only one example of thousands of keyphrases that show up results unrelated to the term."

I'm beginning to wonder what the requirements are to become an engineer at Google. They might as well be on drugs!

duckduckgo said..
. "Someone copies your site, Dracgoogla penalizes the original site, not the site that copied. Someone spams your site with backlinks and google penalizes your site. I guess they think everyone has a budget like them that can remove all these bad links, or fill out hundreds of DMCA reports at a fee."

Leopoldo Hewitt said...
"Google are also losing money on advertising and by taking out a lot of legitimate adsense sites they are actually shooting themselves in the foot and will upset both advertisers and webmasters. Chapter 11(bankruptcy) may be sooner than they think."

orik said...
"I just informed the Federal Trade Commission (FTC) about this. Now, everyone can damage other people's websites by doing Negative SEO. Google's algorithm allows this. This is against the ANTI-TRUST LAW in U.S. Google is a monopoly company and it misused its monopolist position to let others punish other people's websites via the system which Google allows.

Here is the link:

https://www.ftccomplaintassistant.gov/

There are 6 steps you should follow to complain Google at Federal Trade Commission. It will only take 5 minutes."

Compudoc said...
"Guys! We NEED to promote duckduckgo.com wherever you go. Make a post on your facebook.com account how google is not working well anymore and a friend told you about duckduckgo and you tried it, and it works GREAT! That 50, 100, 500 friends will tell their 50, 100, 500+ friends and so on. Also I run a computer repair shop. With my customers permission I will change their homepage to duckduckgo.com, and show them how great it is. Google ONLY has the power WE the people give them! If everyone tomorrow stopped using google, they would be a "dead DUCK!" ;)"

johan said...
"A long time ago Google used to be a Searh Engine, now you're just big business. This and previous updates have little or nothing to do with improving serps. It's all about your next quarter results.

You spam us all the time, with your Adwords ads, your emails to get on Google plus, or to invite more people into GMAIL.

You don't like too many ads above the fold? Why don't you give the example and remove yours?

With your Webmasters tools and Analytics, your PR guy Matt Cutts, you've fooled millions of webmasters. Making them believe you care.

I just tested this http://duckduckgo.com search engine, and it's amazing how good the results they serve are. It just proves you guys made billions from something that's really not that hard to do. You guys were in the right place at the right time but if you continue like this you can bet that my grand children won't "google" much.

Go duckduckgo.com !!!!"

DolphinC said...
"The Panda updates have been put in place to target the tens of thousands of website owners who have used SEO companies to help them appear on any search results and FORCE them to hire Google via Adwords of Adsense to drive traffic.

This is in an effort to show Google's shareholders that sales are up because of all the scrambling webmasters who are looking to the plug holes on their fast-sinking ships, have now have now resorted to Google for those services.

But remember, Google: you have done this at the expense of search results. Your search results are no longer relevant and turn out garbage. You have sacrificed your footing for a quick buck. Your stocks maybe rising temporarily, but this will soon end when the many that are searching, realize that Google's search results are now garbage and they will go to Bing, because their search results are relevant.

You may be lining your pockets now, but once you have lost the confidence of the end users, your fate will be sealed and you will follow in the footsteps of other search engines like AltaVista or Yahoo who disappeared or fell from being the preferred search engine, just because they got too cocky and full of pride.

With great power comes great responsibility. Tens of thousands of businesses that employ a number of people are now facing the inevitable outcome of having to close their doors because of your actions. Your hands are stained with blood and the pain that you have caused. At least one has already committed suicide. Shame on you Google and everyone that works there for your greed."

"Richard said...
"Attorney Beth A. Wilkinson, the same one who is filing a lawsuit against Google, on behalf of the FTC, is probably looking for more evidence for the FTC case. They are filing this lawsuit because of Google Monopoly strategies, privacy issues, and taking out the little guy of the searches so they can sell there products.

If we bring more evidence like what has happened to thousands of small companies and has affected millions of lives because of jobs lost, this lawyer can probably due some real damage. Remember, Google is trying to coerce people to use Google AdWords. The only thing that is left in the organic searches is Big corps and thin sights with little substance.

HERE is her email. Let her know what happened to you and give her a link to this forum and many others that are talking about this subject.

bwilkinson@paulweiss.com"

[url=http://gizmodo.com/5875571/google-just-made-bing-the-best-search-engine]Google Just Made Bing the Best Search Engine[/url]

gabydumitru90 said..
. "Everybody tells that Google is wrong with this last update, but I will prove it with some wrong search results examples! Google, we want a press release where you admit your mistake or you announce a new update soon. Don't let us fire all our employees and close our quality websites, say something about this!

Examples:
1. Web Hosting
Website - www.xeromi.net

2. Viagra
Website - www.montgomery.edu

3. New Shoes
Website - Youtube Video Song
Website - www.interpretive.com/rd5/index.php?pg=ns

4. Best Web Hosting
Website - www.bestwebhosting.com
This website is created by a 4 years old I think!

5. Ambien
Website - http://www.kidsoc.org
A website that has nothing to do with Ambien :))!

Those are only 5 examples! I know another 20 examples in my country and a lot more on google.com! Why do you run this update google? Do you want people to pay for AdWords? Or what is your interest? They will pay for a while, but after that you are broke! Are you on long-term or short-term? Will Google be for sale?

Howie said...
"Here's another winner. Search 'pregnancy miracle' - you get this spun gem at #7 - this is spinning in 2 different languages? That was exactly what I was looking for when asking about pregnancy!

'Senator ar-t.ev a supoorter associated with Governor Frar of New York, in tr.at the s asp.rations to'"

Johnny said...
"We're all just better off using a non discriminative search engine. www.duckduckgo.com"

Marco said...
"@Johnny , you are fool and an arrogant one even! How do you dare say that EMPTY page is not high quality and relevant? If Google says it is, it is! You are wrong, period. And even if you are not, Google is right anyway!

Let's all move over to Bing, seriously!"

LifeA5 said...
"Google, you cannot show all 10 paid listings on page 1. RIGHT? Stop pissing off webmasters. Wikipedia is not going to open a "baby gifts" shop.
CNN, about.com and every big site is not going to offer shoes, gifts and payday loans.
What's the point of having "INFORMATIVE HIGH AUTHORITY SITES" on top?"

Marksaid... This update is causing more harm than good. Having said that, as an experiment, I have recently de-ranked one of my competitors by blasting it with crap links and crap articles. Way to go, Google! Me thinks people will be switching to Bing and other search engines pretty sharpish.

Millions of examples regarding "the new DracGoogla policy to improve users' searching experience"... How about axiomaticism? It's all about TRUTH of the TRUTHS, right? Look what the greedy and misery-hungry Penguin puts on your search tables: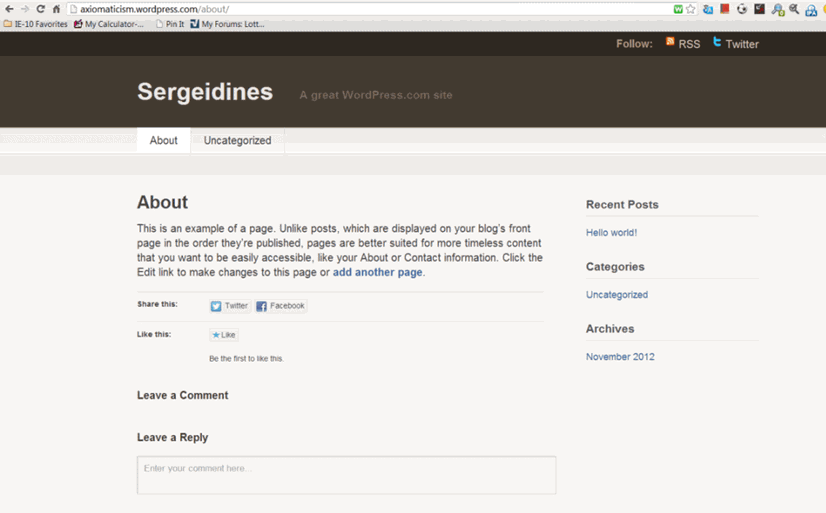 Honestly, it's a crime that a webpage like this one even appears in searches, even after position 1000000! It's an affront to intellect and reason just for being indexed! Yet, that "page" shows up on the first search-result page at "new, improved Google"...