BRIGHT4.EXE: High-Powered Lottery Software for 4-Digit Lotteries
By Ion Saliu, Founder of Lottery Programming Science
Published by Ion Saliu on April 26, 2011.
• Bright4.exe ~ version 3.3 ~ May 2012 ~ free-to-run pick-4 lottery software for registered members.
High-powered integrated pick-4 lottery software — the most powerful software packages for pick-4 lotteries.
First, you need to become a registered member of this Web site (for a reasonable membership fee). You can download the software from your dedicated membership pages. The membership pages have also clear instructions on downloading, installing, and running the software.
It is also recommended to visit and read all the valuable information on the main software site. BRIGHT4.exe belongs to software category 5.1.
We present now the four menus and their applications and functions.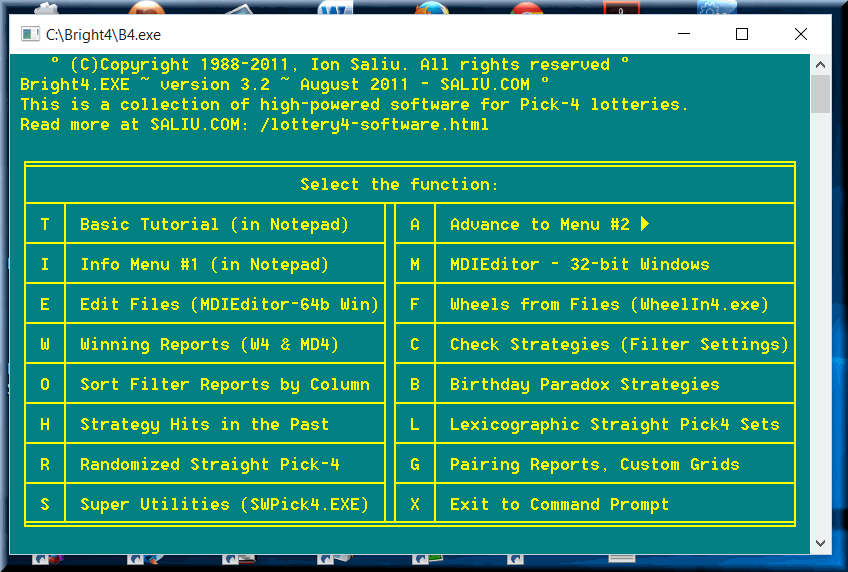 This menu comprises the most important programs and functions of the Bright4 software package. The software user will always start with creating (once) and then updating (in every run) the data files. The most logical next step is the creation of the winning reports. The end-result should always be the process of generating 4-digit lottery straight sets.
* Option 'E = Edit Data Files (Edit Files with MDIEditor And Lotto WE for 64-bit Windows)'
* Option 'M = Edit Data Files (Edit Files with MDIEditor And Lotto WE for 32-bit Windows)'
It opens an empty window of MDIEditor to type in or paste in the 4-digit lottery results (drawings, draws, past winning numbers, etc.) The file is always saved in text (ASCII) format.
The data file must have exactly 4 digits per line. The digits must be separated by one or more blank spaces. You can also use commas , as the field separators. The universal field separator should be the blank space.
An example of the contents of DATA-4 for a pick-4 lottery game:

7  0  4  4
1  4  7  8
4  8  2  3
0  9  4  2
0  3  3  3
5  7  4  4

The first menu item (E) opens my MDIEditor in 64-bit Windows (in "C:\Program Files (x86)\MDIEditorLottoWE\MDIEditWE.exe"). The other item (M) takes care of the 32- bit Windows: "C:\Program Files\MDIEditorLottoWE\MDIEditWE.exe". You might want to check your installation of MDIEditor And Lotto WE. Reinstall, if necessary, to match one of the above program locations.

Program name: Any text editor can be used for this task.

For more info, read:


Contents | Forums | Sitemap |