Ion Saliu-Parpaluck, Da Masterful Webmaster, Web Publisher, Author, Software Developer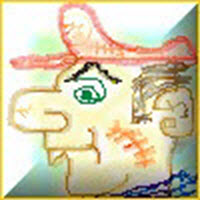 Contact Information
By and for ION SALIU


1. Background Information: Origin of Name, Accomplishments
The pronunciation is easy in phonetic languages: Ion Sa'li'uu.

In an etymological language such as English, including American, the pronunciation faces difficulties, for some reasons. Even cultured opera singers pronounce, sometimes, requiem, instead of rec-vee-EM.
Try to pronounce my great (!) name as:
Yon; eeonn, aeon (Ion, a dialogue by Plato, on poetry; Ion was a Greek poet of the 5th century BCE);
Sah-LEE-ooh (Salius is a character in Virgil's - Publius Vergilius Maro - The Aeneid).

• Profiled in the internationally acclaimed Marquis Who's Who directories, starting with the editions in the brackets.
• Who's Who In Science And Engineering (1994/1995)
• Who's Who In The World (1995)
• Who's Who In America (Millennium Edition, 2000).

Read more: Ion Saliu's Book of Records.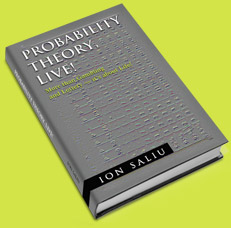 Read Ion Saliu's first book in print: Probability Theory, Live!
~ Discover profound philosophical implications of the Formula of TheEverything, including philosophy, gambling, lottery, software, computer programming; registered with the U.S. Copyright Office and Library of Congress.

2. Addresses: Email, Web
• Email
reason@saliu.com=conditionally enabled
(remove the = sign and everything thereafter)
• Internet
SALIU.COM - The Official Web Address
Be sure to point your browser to the above address. In the future, it will be the only site I will maintain. I recommend you bookmark this URL.
The most comprehensive mirror of SALIU.COM is provided by the WayBack Machine (web.archive.org). The archive of the Internet has hundreds of captures of SALIU.COM — snapshots at various points in time, beginning 1999:
You want to see what Ion Saliu looks like? How about how his voice sounds? Musical, perchance? Ion Saliu sings on YouTube:

3. How to Contact Ion Saliu, Including Extra Software and Systems
Email has become a serious problem in the new millennium. Spam is the worst disease of the e-era. Please be considerate with your email. Be mindful that you are not the only human in this great world of ours who wants to communicate with me. This Web site has been visited by millions of people. If you don't get a response from me, please don't get mad at me and inundate me with your repeated messages.

And, no, I am not interested in link exchanges of any kind. Link exchange solicitations will be automatically reported as spam. Solicitations for participation in affiliate programs will be automatically reported as spam. Emails with attachments will not be opened, unless I do know and trust the sender.

• Always check out the What's New page for the latest and current licensing availability. Requests for additional free software, free systems, free tips, and/or free technical support will NOT get a response. A repeat of such requests will be dealt with as spamming and/or harassment. Exception: Registered members may freely request new software or systems. I answer in a reasonable period of time to reasonable questions.

• Still, there is NO good chance you can get a response from me without sending me a payment! What payment?! I am willing to do favors — you can respond in a like manner. You can get a free answer by email IF all of the following conditions are met:

1, 2, and 3: Error reports in my software are always welcome. I respond as soon as I put my finger on the wound. The response materializes in updated software. I also acknowledge the discoverer of the error(s), usually in my forums. I appreciate also suggestions. You know, we all think of most suggestions as being idiotic. I always go the extra mile. No matter what my first reaction is, I do process suggestions!

Suggestion, criticism, and hatred are the top engines of development, evolution, indeed. The natural order is in reverse, however. No discovery in history has ever avoided the first step of hatred from others. We all must learn to deal with love to hate as well as hate to love.

If you do not get a response from me, take it in stride. We must never expect direct responses from others. Life is way too short to accommodate such a feature!

4. The Best Lotto, Lottery, Gambling, Scientific Software
It's worth mentioning that this site has been visited several times by the United States Patent and Trademark Office (USPTO). As part of the search for prior art to determine the novelty of new patent applications, USPTO is using non-patent literature more than in the past. This is especially true in the software arts, where so much ground-breaking work has been done by programmers who make their products available as shareware or freeware (such as myself).

I am not a big-time money winner yet because I have spent too much time on developing software, systems, and ideas. I only played casino gambling with the intent to turn professional gambler. The casinos kicked me out.

There is a lot of gambling, lotto and lottery software at my software download site. There is no other place in the world where you can find better lottery, lotto, gambling, scientific software — in such large quantity, some even for free. Not to mention the highest quality. You will NOT find better lotto software, lottery software, or lotto systems anywhere else — regardless of price. It's all about mathematics.

• The software is NOT free to download. Paid membership is required in order to download the software. The membership fee is negligible when compared to similar software packages. Without doubt, the software you download is far superior to any software products in similar categories. Moreover, some of the software titles you find here are absolutely unique. You will not find similar programs regardless of prices. You may download all the software titles covered by your membership, including all upgrades and updates — for as long as this website is live.

• The software you download, however, is FREE to run for an unlimited period of time. It has no crippled features, and no strings attached. It is not shareware: It is totally freeware. Read more: Download Great Free Software: Paid Membership Required.

Also, you can find at this web site great gambling systems. You don't need to buy anything. The winning gambling systems are free! There is the free gambling strategy or system applicable to blackjack and baccarat. Moreover, the roulette strategy page offers at least three gambling systems. They are known as Free Winning Roulette System #1 and Free Winning Roulette System #2. The free system #1 has a second variety related to Birthday Paradox probability applied to roulette gambling. Try them out, before you spend a lot of money on pricey gambling systems. I give you this guarantee: My free gambling systems are much better than any other gambling system, regardless of price! Take my word on it: All other casino systems amount to just about nothing. Again, it's all about mathematics. No gambling author or developer has the courage to take my challenge: Test our gambling systems in a physical casino, playing with real money.
The unique software is absolutely free to run and use for a lifetime. Only downloading requires a reasonable fee as permanent membership. You might want to consider becoming a registered member to download one-of-a-kind software and other resources (results for Powerball, Mega Millions, Euromillions, exclusive software source code, etc.)

Take a look, if you will, at one of my software creations: MDIEditor Lotto WE. Users say it is a work of art; my goal was to carry out a science project.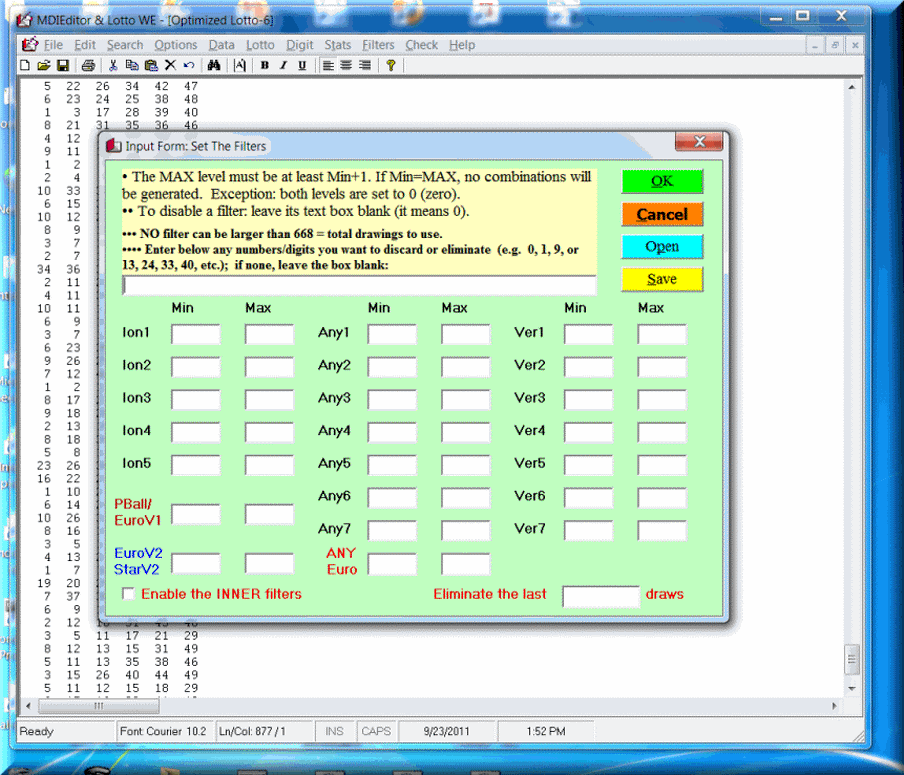 Home | Search | New Writings | Odds, Generator | Contents | Forums | Sitemap