A gambling strategy is...deer!
Craps Casino Gambling Systems Based on Ion Saliu's FFG Theory
By Ion Saliu, Founder of Craps Mathematics


For years, Parpaluck did not offer specific systems for direct play at the casino game of craps. But there is the Super Roulette Strategy, applicable also to blackjack, baccarat, craps. See below a special gambling strategy specifically for craps.
Posted on December 22, 2000; later updates.
In Reply to: Inquiry: Winning strategy for the casino game of craps posted by Toneloc on December 22, 2000.
: Can you give me some advice or a system on the casino game of craps? I already know how to play the game just want to know if there is a way to maximize my winnings. Thanks in advance.
• I do not want to present the details of my gambling strategies. On the other hand, I laid out a solid mathematical foundation. All step-by-step guides or strategies start with mathematics. As a recent visitor put it:
"Thank you for presenting your Gambling Formula - together with the description of your Free Winning Roulette Strategy. It brings totally new ideas of playing roulette to me … other casino games as well!"
I consider gambling can be a major investment for me in the future. For that purpose, I try as hard as I can to keep some things to myself. I try not to publish anything on my gambling strategies before the year 5 WE. I had made major plans for the holidays of 0 WE. But, then again, things happen. I was driving to work. All of a sudden, thick smoke was inflowing from the heating system of my car. It smelled kind of dry leaves. I stopped on another company's driveway. The smoke cleared in ten minutes. I was able to drive to work with the inflow off and the windows down. Then, again, today, driving to work, I hit and killed a deer! Therefore, all plans are off for now. I try to fix my car first. Anyone good at interpreting signs? I don't believe in signs, anyway… I didn't mean traffic signs!
December 22, 0 WE
Better luck to you all!

Ion Saliu's Later Notes on Craps Gambling Systems
I have offered more and more free theories and gambling systems to a scale larger than any other human individuals. You can surely apply to craps the gambling systems I presented on this page: The Super Roulette Strategy: The Best Winning Roulette Systems. Perhaps closer to craps are the blackjack gambling systems I presented here: The Occult Science of Gambling. It is all about streaks — the foundation of gambling mathematics, craps included. Software name: Streaks. It is a component of the best collection of mathematical, probability, statistical software known as Scientia. Follow also the links below.

Here is an application of the Fundamental Formula of Gambling FFG to craps. One follower of my theories, software and gambling systems has had a serious interest in the casino game of craps. He took the p = 1/2 systems in the Super Roulette Strategy and extended the gambling systems to craps. Craps is a more difficult casino game as the gamblers have to stand. It is very difficult to keep records on paper. The mental approach, as presented on the Occult Science of Gambling page is the applicable and practical method.
FFG Betting in Craps SYSTEMS 1.3, 1.4, 1.5

After reading (several times) the Super Roulette Strategy, I thought: "Why can't I apply the FFG and use that betting style to Craps?" You can! Here it is the craps strategy.

I chose the SYSTEMS 1.3, 1.4, 1.5 examples as the template. We are only concerned with three dice results: 6, 8 and 7. We bet on the 6 & 8. Where only 6 or 8 and 7 are concerned, p = .625; not as good as .66 but fairly close.

I've tested some real craps rolls and rolls from Random.org (over 250,000). Using the advice of "bet and leave once you win" works wonderfully. Mathematics-wise, 98% of the results fall within the parameters of the 3 power Martingale up to 27 (1, 3, 9, 27). I then took it to the casino tables.

When to bet and play without attracting attention:

Play the pass line or don't pass while you're waiting to make bets (so you can stay at the table). Use the minimum allowed. Wait for the following event to occur:

When a 7 rolls, place a chip off to your left as your streak counter. When a 6 or 8 rolls, take the chip away.

When a 7 has rolled two (or three, whichever safer method you want to use) consecutively times before a 6 or 8, place a chip off to your right as your betting counter and remove the chip on your left streak counter. When the betting counter is two, make a place bet of equal amounts on the 6 & 8. Turn the bets ON if need be.

Let the bets ride until a 6, 8 or 7 is rolled. If a 6 or 8 rolls, take your winnings and take your place bets down. You're done!

If a 7 rolls, wait until your betting counter is one and then use the Martingale progression and bet accordingly on the Place 6 & 8, turning the bets ON if need be.

I played this way for a whole day with small bets to see how it went and it was pretty easy to manage and it paid off! As an aside, I saw only one extremely long consecutive 7's (6) before I was getting ready to leave, but the next sequence of two consecutive 7s then an 8 paid off.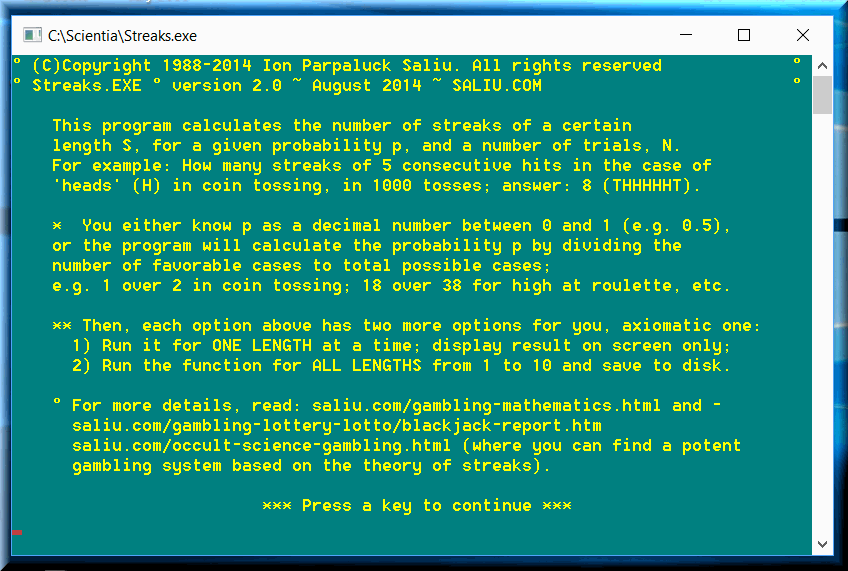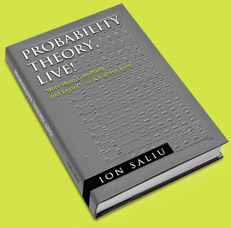 Read Ion Saliu's first book in print: Probability Theory, Live!
~ Founded on mathematical discoveries, also applied to casino gambling, craps systems based on streaks.


Follow Ups


Home | Search | New Writings | Software | Odds, Generator | Contents | Forums | Sitemap