Major Updates, Improvements to Software Applications
for Lottery, Lotto, Pick 3 4 Lotteries, Powerball, Mega Millions, Euromillions, Keno, Horse Racing, Blackjack, Roulette, Baccarat, Sports Betting, Gambling, Probability, Odds, Statistics, Mathematics
By Ion Saliu, Upgrader At-Large

Major upgrades: Improvements in functionality, performance and error handling to the following indubitably great computer programs:

• FrequencyRank, statistical software to calculate frequencies for lottery, lotto, horse racing, football, roulette;
• PermuteCombine, combinatorial software to generate all possible sets of numbers (permutations, combinations, arrangements);
• SHUFFLE, probability software to randomize (shuffle) numbers or files;
• SkipSystem, software to create skip systems for lotto, lottery, Powerball, Mega Millions, Euromillions, horse racing, roulette, football;
• SORTING, sort data files (results, past drawings, past winning numbers) for lotto, lottery, Powerball, Mega Millions, Euromillions, horse racing;
• SUMS, software to calculate the sums or sum-totals for lotto, lottery, Powerball, Mega Millions, Euromillions, horse racing;
• SuperFormula, comprehensive probability and statistical software;
• UpDown, software to reverse the order of drawings (lines) in lottery data files;
• WINNERS, software to check if your lottery numbers won;
• BellCurveGenerator, software to generate combinations within the bell curve and also FFG median;
• FileLines, lottery software to cross-references strategy files;
• LottoWheeler, lottery wheeling software converts theoretical lotto wheels to playing tickets with user's actual picks;
• OddsCalc, probability software to calculate comprehensively the odds in lotto, lottery, Powerball, Mega Millions, Euromillions, horse-racing;
• Parsel, lottery software verifies the correctness of data files with real drawings, results, past winning numbers.


The programs are now included in the comprehensive Bright software packages.

Based on the feedback I receive, the update to SUMS answers many a prayer.
First off, the summary of big-odds lotto games is performed significantly faster. All the reports are also complete.
As nice twist, the sum-mary reports show also the percentage a particular sum-total represents in the entire lexicographic field of the respective lotto game.
• OddsCalc has been entirely rewritten. The program calculates the lotto odds completely, both as EXACTLY and AT LEAST. It covers standard lotto games (e.g. 6/49), Keno (e.g. 10/20/80), horse racing, Powerball, Mega Millions, Euromillions, Super Lotto. Furthermore, the lottery odds can be calculated even for pools or groups of numbers. For example, you want to play a group of 12 lotto numbers (as in applying a lotto wheel or reduced system). Of course, your chances are better to hit the 6 lotto winners among the 12 you chose. You get also better chances at 4 of 6 or 5 of 6 in your 12-number pool.
The application has a special generalized function. It treats every lotto game as a combination of two, much like the Euromillions game. You can calculate the lotto odds for two-games-in-one situations. For example, all the odds for 6/20+5/20 lotto. The lotto 6/49 game is a particular case of one game of 6 from 49 numbers, and another game of 0 from 0 numbers.


The generalized function defaults to a 5/56/1/46 game (actually, it is the 
Mega Millions lottery game):

 The odds calculated as EXACTLY in a generalized lotto game
 '5/56 AND 1/46':

~ 0 of 5 in 5 from 56  AND  0 of 1 in 1 from 46 = 1 in 1.66 
~ 0 of 5 in 5 from 56  AND  1 of 1 in 1 from 46 = 1 in 74.8 
~ 1 of 5 in 5 from 56  AND  0 of 1 in 1 from 46 = 1 in 3.13 
~ 1 of 5 in 5 from 56  AND  1 of 1 in 1 from 46 = 1 in 140.63 
~ 2 of 5 in 5 from 56  AND  0 of 1 in 1 from 46 = 1 in 18.75 
~ 2 of 5 in 5 from 56  AND  1 of 1 in 1 from 46 = 1 in 843.75 
~ 3 of 5 in 5 from 56  AND  0 of 1 in 1 from 46 = 1 in 306.25 
~ 3 of 5 in 5 from 56  AND  1 of 1 in 1 from 46 = 1 in 13781.3 
~ 4 of 5 in 5 from 56  AND  0 of 1 in 1 from 46 = 1 in 15312.55 
~ 4 of 5 in 5 from 56  AND  1 of 1 in 1 from 46 = 1 in 689064.85 
~ 5 of 5 in 5 from 56  AND  0 of 1 in 1 from 46 = 1 in 3904700.8 
~ 5 of 5 in 5 from 56  AND  1 of 1 in 1 from 46 = 1 in 175711536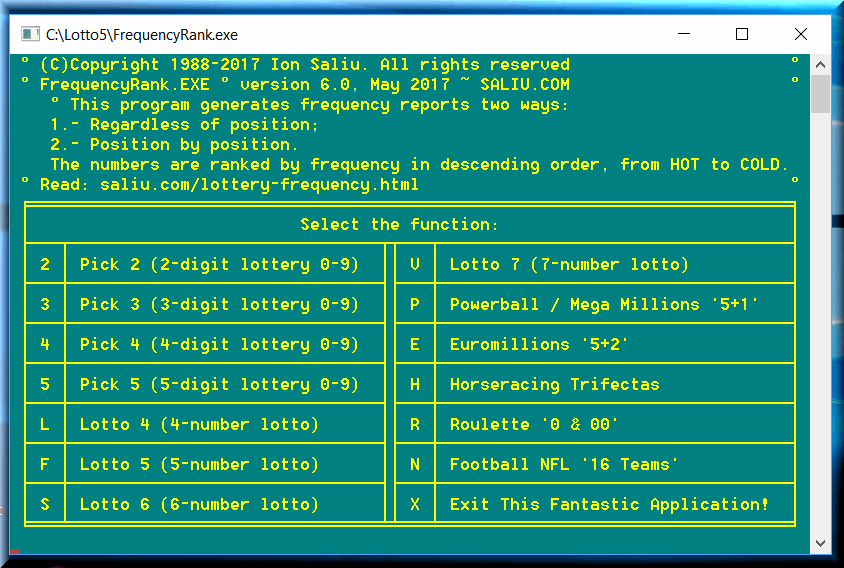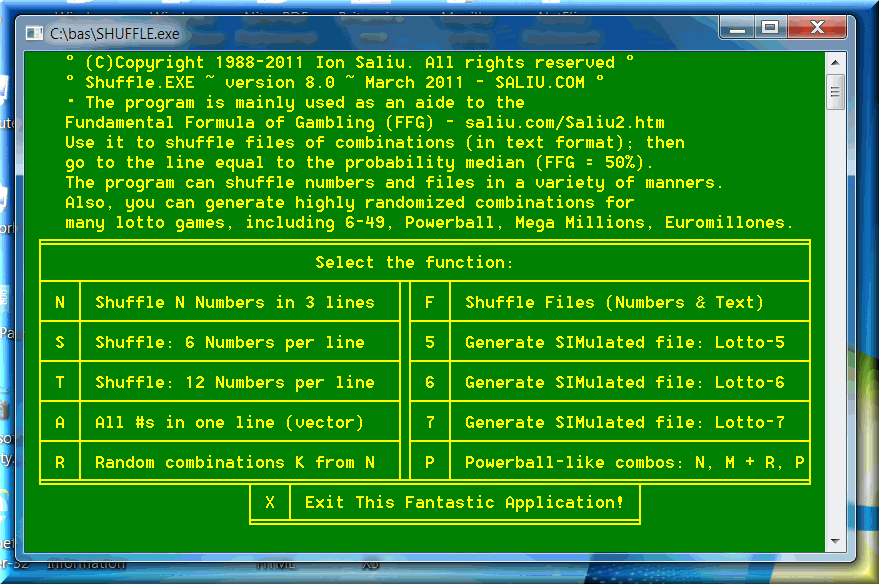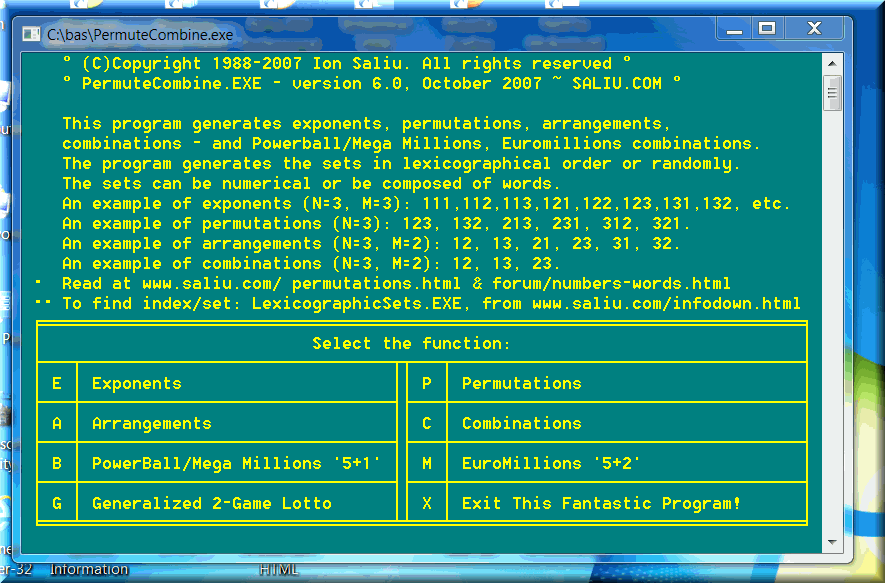 Read more at the main download site, section III (New Software Titles, Software Upgrades, Updates):