Lottery, Lotto: Software, Content, Resources, Systems, Strategy, Wheels, Mathematics
By Ion Saliu, Founder of Lottery Mathematics

Lists the main pages and links to the best in mathematics of lottery, lotto software, systems, wheels. It's all about mathematics of winning lotto, lottery systems, including for pick lotteries, Powerball, Mega Millions, Euromillions and Keno.
The HTML titles are adequately descriptive of lottery page content. In addition, a short description accompanies a less intuitive title.
This content category at saliu.com lists the most relevant resources lottery and lotto, software and systems included. The listing is not inclusive, nor is it exclusive. Genuine efforts are made to include here the most relevant (and useful!) lotto and lottery resources. Genuine efforts are also made to update this resource as warranted.
Each link is displayed in a new window. If the page content is of interest to you, copy-and-paste to that lottery page of yours: SaliuLottery.txt or something similar. Copy as much as you can in that text file. By editing that page in your own words will result in a very effective lottery manual.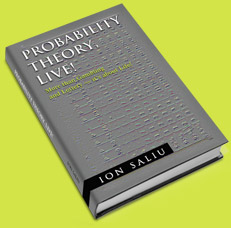 Read Ion Saliu's first book in print: Probability Theory, Live!
~ Founded on valuable mathematical discoveries with a wide range of scientific applications, including probability theory applied to lottery software, systems, strategies, lotto wheels.

• The lottery software at this Web site is NOT free to download. Paid membership is required in order to download Ion Saliu's software. The membership fee is negligible when compared to similar lottery or lotto software packages. Without a bit of a doubt, the lotto software you download here is far superior to any software products in similar categories: Lottery, lotto, gambling, Powerball, Mega Millions, Euromillions, probability, statistics, and combinatorics. Moreover, some of the software titles you find here are absolutely unique. You will not find similar programs regardless of prices. You may download all lotto software titles during your yearly membership, including all upgrades and updates. It all boils down to about 10 cents per title. You will NOT find a better deal on the planet!
• • The lottery lotto software you download, however, is FREE for you to use during your lifetime. I wish you the longest of quality lifetimes! The lottery software has no crippled features, and no strings attached. The software is not shareware: It is totally freeware. Read more: Download Great Free Software: Paid Membership Required.

Resources in Lottery, Software, Systems, Lotto Wheels, Strategies

Comments:


Home | Search | Help | New Writings | Software | Odds, Generator | Contents | Forums | Sitemap