Scientia: Scientific Software for Mathematics, Probability, Odds, Statistics, Combinatorics
Written by Ion Saliu on April 11, 2011.
• Scientia.exe ~ version 1.0 ~ April 2011 ~ free-to-run scientific software for registered members.
First, you need to become a registered member of this Web site (for a reasonable membership fee). You can download the software from your dedicated membership pages. The membership pages have also clear instructions on downloading, installing, and running the software.
It is also recommended to visit and read all the valuable information on the main software site. Scientia.exe belongs to software category 5.6.
Most software titles require a one-time payment to download – all software for one very reasonable price. The software is then free to run forever. Pay safely online via PayPal —
Let's look at the two menus and their applications and functions.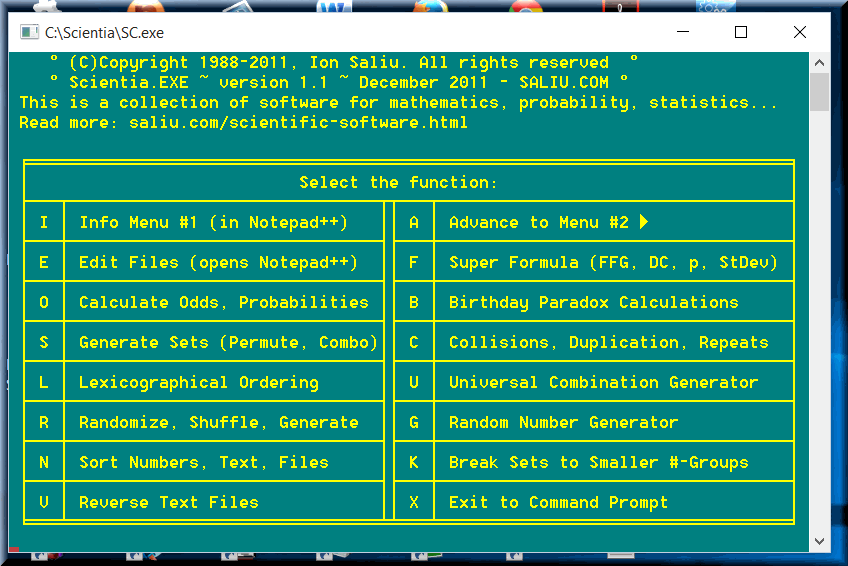 * Option 'F = Super Formula (FFG, DC, p, StDev)'
SuperFormula.EXE is the definitive software for statistics, probability, odds, gambling mathematics ... and much more. The functions are grouped in 12 categories. Each software category has its own detailed sub-categories. This unique application grew from the request by many people to create software to automate the calculations in the Fundamental Formula of Gambling (FFG). FFG discovered the most fundamental elements of theory of probability and also the Universe: The relation between the degree of certainty (DC), probability p, and number of trials N.
Program name: SuperFormula.exe.
For more info, read: